Recently, Sanan Integrated has obtained a surface acoustic wave (SAW) filter order from the world-renowned mobile phone foundry Fuzhikang Group, marking a comprehensive breakthrough in Sanan's integrated filter business for module customers and mobile phone manufacturers. Beginning in the fourth quarter of last year, Sanan integrated SAW and TC-SAW filter shipments rose rapidly, from quarterly shipments of 10kk to the second quarter of this year to a single month shipment of more than 10kk. As mobile phone terminal manufacturers also begin to adopt Sanan filter products, in the future, more mobile phone models will achieve a comprehensive "Sanan Inside" in the RF front-end components.
It is reported that this cooperation plan with Fuzhikang Group covers 2 Nokia models and 3 operators, a total of 5 4G models. Fuzhikang Group provides mobile phone products to many countries and regions around the world, covering the world's mainstream LTE frequency bands. It is estimated that only nearly 600 million discrete filters will be used throughout the year. With the gradual design-in of its product line, the two parties are expected to continue their in-depth cooperation. As of press date, San'an integrated filter products have actively explored 41 customers, of which 17 mobile phone and communication module customers, such as Fuzhikang, Hezhou, and Tianlong, have successfully imported Sanan products; including Guanghetong. 24 potential customers have entered the product verification stage and will be converted into official customers in the near future. According to Sanan IC, unlike other newly established filter companies, Sanan prioritizes the development of difficult temperature-compensated filters. High-quality and high-performance products are one of the reasons why they can quickly import clients.
SAW Filter Enters The Early Stage Of The Industrial Explosion, Only Vertical Integration Can Come First
In the radio frequency front-end module (FEM), the filter plays a vital role. In addition to supporting 5G frequency bands, 5G mobile phone RF front-ends also need to be compatible with 4G/3G/2G modes. Each RF channel needs a filter. Compared with 4G mobile phones, 5G mobile phone RF front-end filters increase from 30-50 To 70-100. It is optimistic about the market prospects. In recent years, a number of SAW filter design and manufacturing companies have emerged in China. SAW filters use the electromechanical coupling effect of piezoelectric materials to filter out noise, which means that the Chinese market's demand for high-quality piezoelectric substrate materials will also increase day by day.
At present, the global demand for more than 50 billion SAW devices each year, 90% of which use Lithium Tantalate (LT), Lithium Niobate (LN) piezoelectric materials, Shin-Etsu Chemical, Sumitomo Metal Industries and other companies have occupied high-end LT and LN substrates for many years, more than 95% share. Jingan Optoelectronics, a wholly-owned subsidiary of Sanan Optoelectronics (600703.SH), put into production in 2016 an ultra-thin and ultra-flat high-quality 4-inch LT substrate, which has been widely used and verified in San'an integrated filter products. , Provide high-quality and stable supply for the vertical integration of Sanan IC and the whole industry.
Only By Mastering The Advanced Manufacturing Process And Advanced Packaging Can We G The Highly Integrated RF Front-End
As early as 2017, Sanan IC established an internationally advanced filter research and development center. By integrating high-end global filter research and development talents, it has fully mastered the research and development capabilities of filter design, process development and high-end packaging. The current filter product line has covered the mainstream frequency bands of FDD/TDD. For difficult products, the unique bonding film technology helps TC-SAW products to improve heat dissipation, Q stability and temperature drift characteristics. Among them, the performance of TC-SAW Band 8 has been comparable to that of similar products from international manufacturers in the performance test.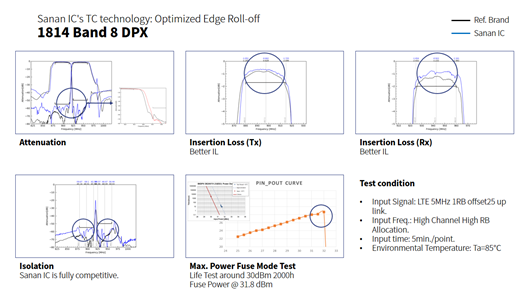 Chart 1: Sanan IC TC-SAW Band 8 DPX Product Performance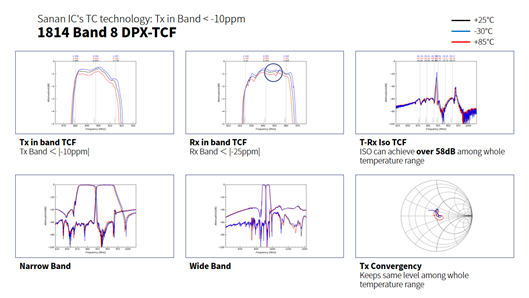 Chart 2: Sanan IC TC-SAW Band 8 DPX-TCF Product Performance
One-Stop Foundry Platform For RF Front-End Solutions To Promote The Coordinated Development Of The Industry
Modularization, integration, and miniaturization will become an irreversible design trend in the RF front-end industry. Although the world's top five RF front-end manufacturers can provide integrated solutions for RF power amplifier PAs and filters, as the impact of the COVID-19 epidemic has exposed the weak links of the current global semiconductor industry chain, delivery capabilities are facing a great test.
Sanan IC stated, "Based on years of experience in the compound semiconductor industry, Sanan has always positioned itself on a vertically integrated large-scale manufacturing platform, capable of providing customers with filter devices, GaAs wafer foundry and advanced packaging and testing. The one-stop service solution can not only guarantee the delivery capacity, but also optimize the production efficiency of customers between the wafer factory and the packaging plant, and accelerate the product iteration speed of the Sanan customer group." Sanan's integrated filter manufacturing base in Nan'an, Quanzhou, has been put into mass production. By the end of 2021, the production capacity will exceed 100 million units per month.